Mushroom Rain
THE CRYSTAL KITE AWARD (ATLANTIC REGION) 2023
JUNIOR LIBRARY GUILD GOLD STANDARD SELECTION AWARD 2022
NERDY BOOK AWARD 2022: Nonfiction Picture Books
CHICAGO PUBLIC LIBRARY BEST INFORMATIONAL BOOKS FOR YOUNG CHILDREN 2022
SHELF AWARENESS 2022 BEST BOOKS OF THE YEAR (& STARRED REVIEW) – "Together Zimmermann and Green prove how fascinating–and beautiful–science and nonfiction can be."
POWELL'S BOOKS BEST BOOKS of 2022
STARRED REVIEW from SCHOOL LIBRARY JOURNAL – "Pictures and words fizz with the magic that surrounds the quiet work of mushrooms and should send kids looking to learn more."
Mushroom Rain Teacher's Guide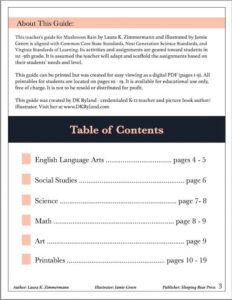 Woodland Ecosystems
Coloring & Activity Pages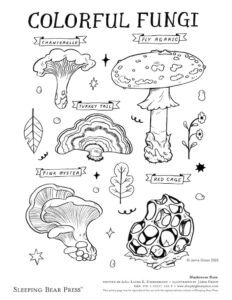 Other activity pages by Jamie can be found on the Sleeping Bear Press website.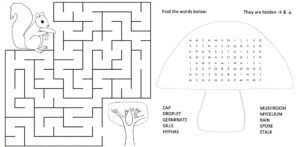 Mushroom Treasure Hunt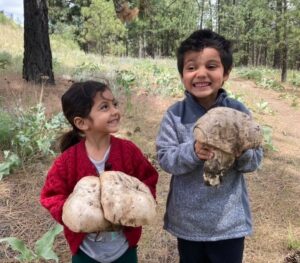 Go on a treasure hunt for mushroom coolness. I keep my eyes open whenever I am out walking. I don't always find treasure, but I take a picture when I do. Mushrooms are fun to draw and write about too. You could even make a Mushroom Nature Journal for pictures and notes about your discoveries. Photo courtesy of Y. R. Holm.
**NEVER touch, taste, or smell wild mushrooms unless an expert trained to identify them tells you it is safe to do so. Some mushrooms are safe, but others can make you really sick. And toxic mushrooms and safe ones can look a lot alike.**
Cooking Fun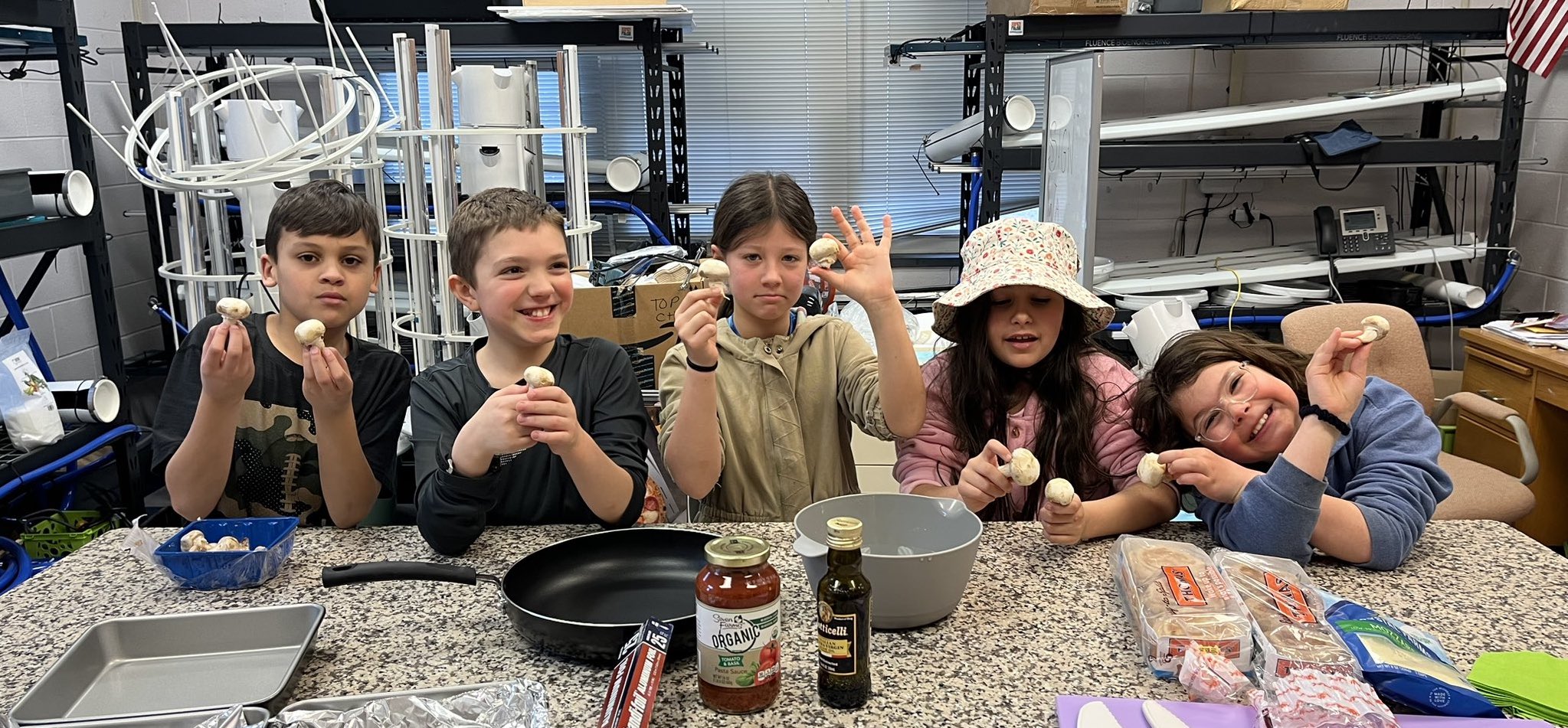 Spaghetti? Pizza? What will you make? Photo courtesy of H. Corveleyn.
Craft Time
Craft Mushrooms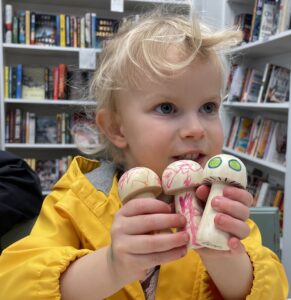 All you need for this project are unfinished wood mushrooms, decorative supplies, and imagination. Photo courtesy of The Open Book (with parental permission).
Mushroom & Munchers Craft Stick Puppets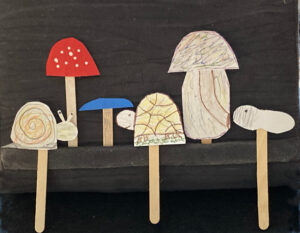 Use craft sticks, paper, glue, and markers/crayons/etc. to create mushrooms and munchers to eat them.
Mushroom Rain Collage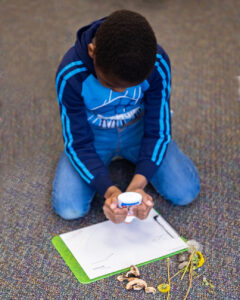 Mushroom-producing fungi that decompose are one of nature's best recyclers. Slice and dry mushrooms from a store or market on a rack for 1 to 2 weeks or get some that are already dried. Then collect leaf litter and such from the ground outside (make sure children only collect things that are safe to touch and work with). Use what you have gathered and the dried mushrooms to create a mushroom decomposition collage on the activity sheet below (I recommend you print it on cardstock). Crafters can collect items for the mycelium as well, use string, or color it. Cotton twine can also be used–unravel it partially to create branched hyphae. For more advanced students, drawing/crafting and labeling other parts of a mushroom could be done as well (e.g., gills, pores, or teeth, ring/skirt, volva). Photo courtesy of Shenandoah University.
Mushroom Munchers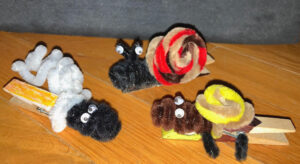 Option 1: Download instructions below.
Option 2: Mushroom Munchers STEAM Challenge
Provide different materials like clothes pins, pipe cleaners, construction paper, craft sticks (connected with rubber bands wrapped in an "x" shape in the center works well), glue, etc. and have them create a muncher on their own or in small groups.
Mushroom Cutout Creations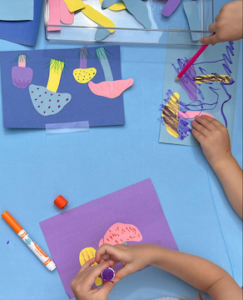 Option 1: Cut out different colored shapes from construction paper. Use these shapes and markers to create a cluster or troop of mushrooms. Project and photo courtesy of Michelle Grambos at Fairytales Bookstore in Nashville, TN.
Option 2: Have children research mushroom shapes before beginning the project. There are more options than just a traditional stalk and umbrella-shaped cap and many shapes that can be made (or they can make) to work with.
Dried Mushroom Art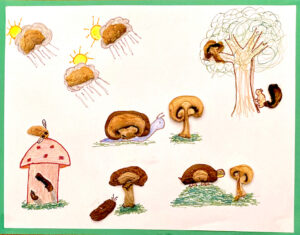 Slice and dry mushrooms from a store or market on a rack for 1 to 2 weeks or get some that are already dried. Glue the dried mushroom pieces onto a sheet of cardstock and color to create your masterpiece.
Mini Posters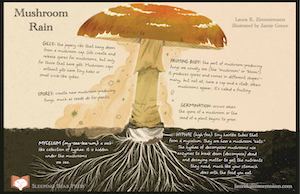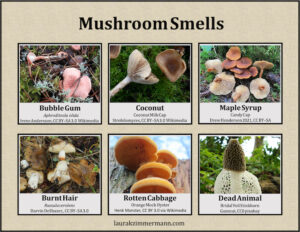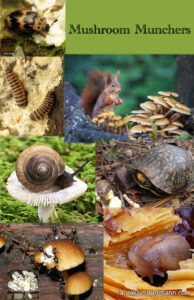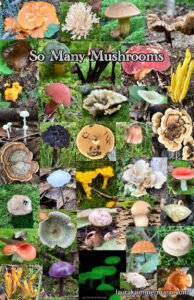 Play Online
Parts of a Mushroom Jigsaw Puzzle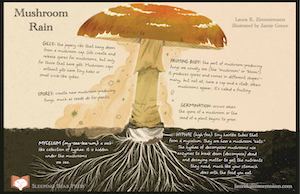 Mushroom Munching Snail Sliding Puzzle
Note: this puzzle can be slow to load.
Mushroom Rain Crossword Puzzle