Media Kit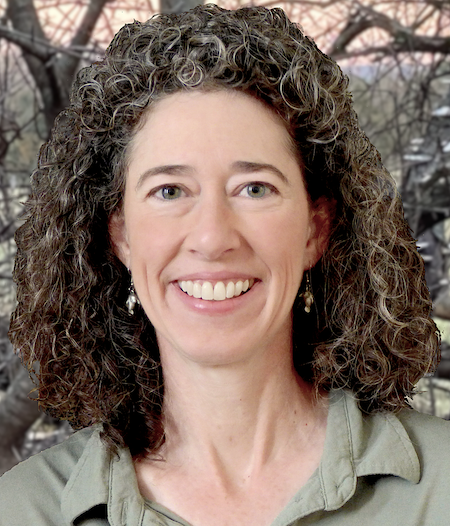 Author Bio
Laura K. Zimmermann is a college professor by day and children's writer by night. She has a PhD in developmental psychology and has published numerous academic articles as well as nonfiction stories in children's magazines. MUSHROOM RAIN is her first picture book. When she's not writing, Laura can be found teaching and conducting research at Shenandoah University or wandering through nature with her Goldendoodle, Tivy. Online you can find her at @LauraK_PBwriter on Twitter, Instagram, and Pinterest.
She is represented by Kaitlyn Leann Sanchez at Bradford Literary Agency.
Click on picture for higher resolution version
Want to know more? Visit my About page.
Book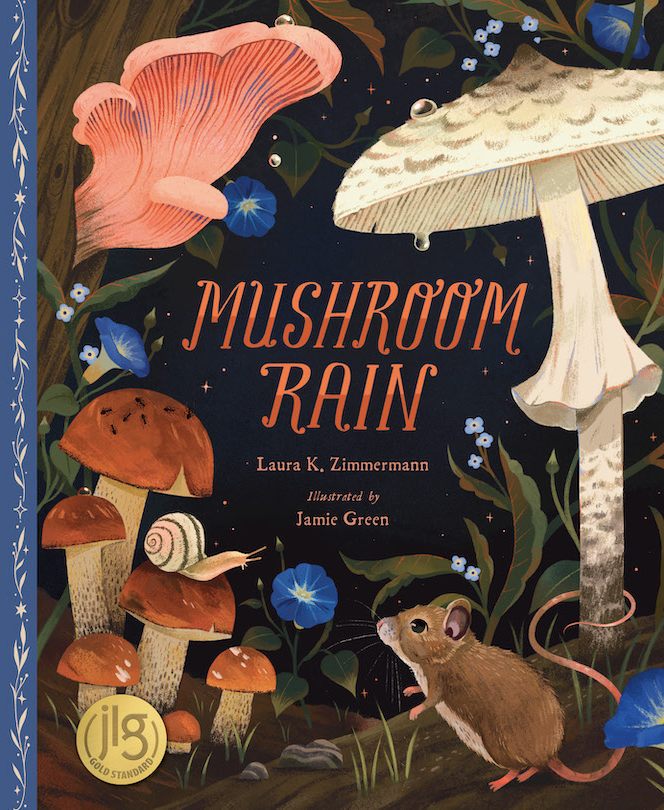 MUSHROOM RAIN by Laura K. Zimmermann, Illustrated by Jamie Green
ISBN: 978-1-53411-150-9; Jacketed Hardcover; ages 4-8; Published March 2022 by Sleeping Bear Press
Audio, & Video formats published by Dreamscape Publishing
Short Description: Explore the wonderful, mysterious, and sometimes bizarre world of mushrooms and how they help create rain.
Full Description: What can smell like bubble gum, glow neon green at night, be poisonous and yet still eaten by humans, and even help create rain? The answer is mushrooms! From their hidden networks underground to the fruiting body above, mushrooms can do incredible things. But don't call them plants—mushrooms are fungi. They're more closely related to animals like you! Through lyrical text and colorful, detailed artwork, the wonderful, mysterious, and sometimes bizarre world of mushrooms is explored. Back matter includes a glossary, additional mushroom facts, and a science activity.
Honors: Junior Library Guild Selection; The Crystal Kite Award (Atlantic Region) 2023, Chicago Public Library Best Informational Books for Younger Readers of 2022, Nerdy Book Award 2022: Nonfiction Picture Books, Shelf Awareness 2022 Best Books of the Year, Powell's Books Best Books of 2022,School Library Journal Starred Review
Click on picture for higher resolution version
For purchase links, a free teacher's guide, and other activities, see the Mushroom Rain page.
Contact Information
Laura K. Zimmermann, PhD
Website: laurakzimmermann.com
Social Media: Twitter, Instagram, Pinterest
School Visits and Events

For information about setting up school visits and other events use the Contact form.
Upcoming and Selected Past Events:
Book Talk & Signing, Kiwanis of Lakeland, Florida, July 14, 2023
Florida Children's Museum, July, 2023
Bird in Hand Storytime, June 17, 2023
Hooray for Books! Storytime, June 3, 2023
Book Signing, Leesburg Flower & Garden Festival, April 16, 2023
Book Signing Barns of Rose Hill Local Author Event, April 8, 2023
Storytime, Craft, and Signing, The Open Book, Virginia, March 25, 2023
Storytime and Signing, Birch Tree Bookstore, March 19, 2023
National Read Across America Day Virtual Storytimes, March 2, 2023
World Read Aloud Day Virtual Storytimes, February 2, 2023
Featured Presenter, The Children's Museum of Indianapolis Homeschool Programs, Virtual, Indiana, November 17, 2022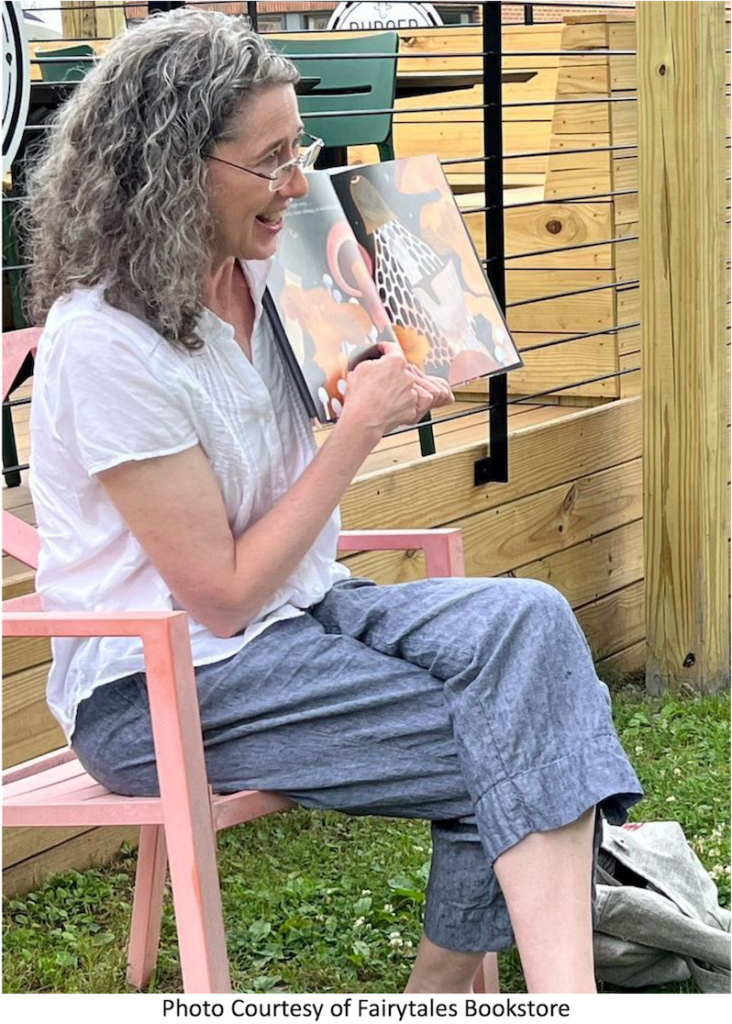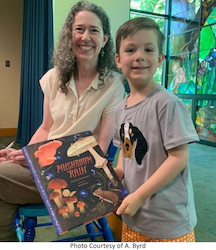 "The Mysterious World of Mushrooms," Tree of Life Christian Prep School, 3rd & 4th graders, Virtual, Virginia, October 14, 2022
Storytime & Craft, Rust Library, Virginia, October 22, 2022
Storytime & Craft, Tombolo Books, Florida, October 1, 2022
"What It's Like to be an Author," Cleveland Court Elementary, 2nd graders, Florida, September 21, 2022
Nature Fun-Day, Polk's Nature Discovery Center, Florida, September 10, 2022
Storytime & Craft, Samuels Library, Virginia, September 7, 2022
"Mushroom Munchers," Science Museum of Western Virginia, July 29, 2022
"How MUSHROOM RAIN Grew" Presentation, Shenandoah University Children's Literature Conference, Virginia, June 23, 2002
Selected Interviews and Blog Posts
Dynamic Book Duos: Woodland Ecosystems, February 2023
"It's Raining Mushrooms," Picture Book Builder, August 2022
"Curiouser and Curiouser," Archimedes Notebook, August 2022.
Nature and My Creative Life on Vicki Johnson's Cabin Reads, Instagram, June 2022.
"The Backstory: MUSHROOM RAIN." Andrew Hacket's Blog. May 2022.
"Earth Day and New Book with Local Elementary Students." Shenandoah University News. April 2022.
"Storystorm Success! MUSHROOM RAIN by Laura K. Zimmermann." Tara Lazar's Writing for Kids (While Raising Them), April 2022.
"MUSHROOM RAIN: Debut and Craft Chat with Author Laura Zimmermann." by Kathy Halsey, GROG, April 2022.
"Simply 7 with Laura K. Zimmermann & Giveaway–MUSHROOM RAIN." Jena Benton's Simply 7, March 2022.
"First Stories in February Featuring…Laura Zimmermann!!" Heather C Morris' First Stories, February 2022.
"Cover Reveal & Interview with Debut Author Laura K. Zimmermann & Talented Illustrator Jamie Green about their Picture Book MUSHROOM RAIN." October, 2021.